002 Welcome to The Dip – a weekly round-up of thoughts, music, ideas, fashion, cocktails, and the most interesting things I spent the week dipping into.
This week was a long one, I had to say goodbye to the gorgeous countryside in Italy and head back to the remarkable balmy weather in Toronto. I was very fortunate to spend so much time in Lazio, a region that I was less familiar with. I was fortunate to take in the cool sea air and enjoy many a gorgeous sunset instead of riding out yet another long and snowy winter in Canada.
Let's talk clothing.
As I was travelling, I did notice that my choice of travel attire, though smart and soft, ended up being a bit too warm ( make it make sense). I decided to go sporty and went with a black Adidas Fleece Tracksuit from the Hyperglam collection that has a great cropped quarter-neck zip, cut-outs, and high waist pant.
Overall, a great combo for the airplane, as you have warmth on the neck, a loose waist, and overall it is a really pulled together look. The one thing that I didn't really consider was how warm the plane and airports were during my layover. I usually expect arctic temperatures on flights, so you can imagine my surprise when I found myself rolling up my pant legs to cool off during the almost nine-hour voyage. There was no blanket needed, and this was absolutely a first for me. It made me think back to past trips to Italy in summer where I would wear, what we used to call, bike shorts, and a tank underneath my sweatsuit so I could easily pop off the warm plane outfit in the airport and have my cooler summer outfit underneath. What I would have gave for a layer to peel off during that flight.
These boots were made for flying walking.
My next mistake was the choice of boot I brought with me on the trip. Since boots are the heaviest, they tend to be the travel shoe as well to help keep your luggage light. For this trip I brought my black iridescent Timberlands. Don't get me wrong, I love these boots. They sort of work with everything, are rugged yet can pass for a casual dinner, they are comfortable to walk in for hours, and are waterproof. All things you want in a casual boot, except that they are also incredibly warm and stiff. This makes travelling extremely uncomfortable. They are not easy to slip on and off. I struggled to stuff my swollen feet into my boots every time I needed to stand up and use the washroom. They almost brought me to the point of dread when I realized I would have to remove my shoes to go through security when I transferred at JFK. Next time, a simple, waterproof, black leather ankle boot with a zipper will be my boot of choice. In retrospect, these were a bit too casual overall, but they are just so comfortable.
The verdict?
Next time, a simple, waterproof, black leather ankle boot with a zipper will be my boot of choice. In retrospect, these were a bit too casual overall, but they are just so comfortable.
My thoughts on travel outfits:
Dress in multiple layers and make sure that are easy to slip on and off in tight spaces.
Avoid boots that are stiff leather, with laces, or overall difficult to quickly slip on and off.
Stick to dark colours or black so any stains from eating while travelling are less noticeable.
Elastic waistbands are your friend.
Keep your pant pockets empty, stuff will likely fall out on the airplane and need to be removed and thrown in a bin during security. It isn't worth it. Thanks for reading Diana's Substack! Subscribe for free to receive new posts and support my work.Subscribed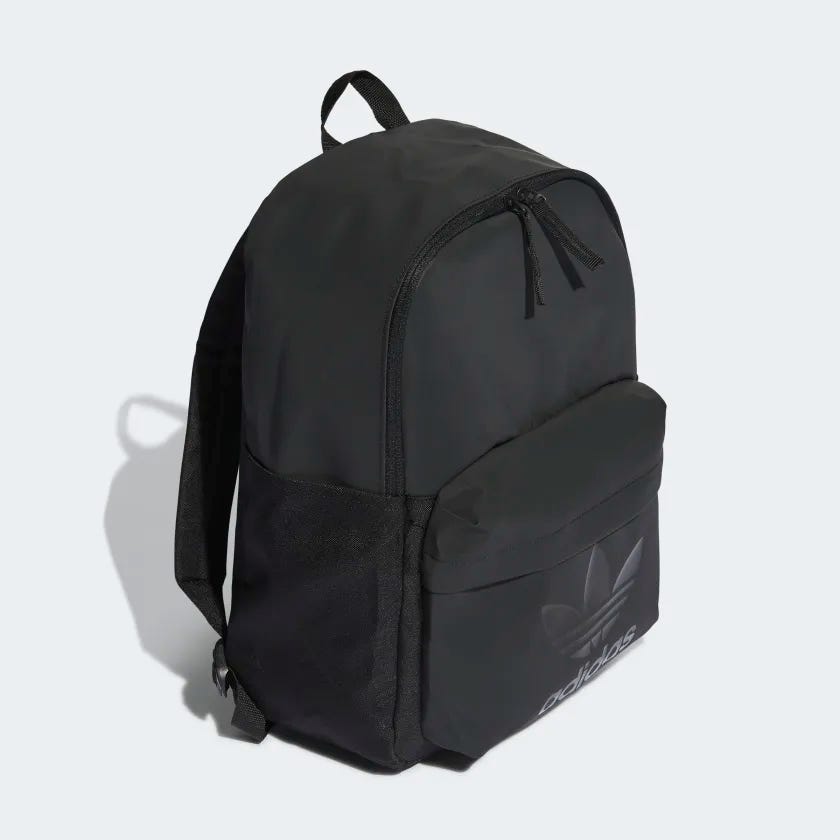 Accessories.
Amidst the hustle of trying to navigate our way on board, trolleys ahead, someone actually complemented me on my backpack. The woman behind me tapped me on the shoulder mid boarding to tell me how much she liked it. She mentioned the size, the look and the material. Even told her friend to check it out. I love the backpack myself as it is extremely roomy, extremely lightweight, and incredibly easy on the shoulders. Simple, subdued, it is a black Adidas Adicolor Archive backpack that has blown my larger Herschel Little America backpack out of the water in terms of spaciousness and comfort. It cost me a quarter the price too.
For the smaller items, I say bring the eye mask, bring the earplugs or better yet, bring the Bose noise cancelling headphones. The ones I have are old and beaten up, but they are so soft and to a great job of cutting out the engine rumble. Not to mention they feature a physical cable, so you can use them with the in-flight entertainment. Be warned, you will not hear them announce the cocktail cart is passing by, so keep your eyes open if you want a libation.
Cocktail Hour.
Speaking of libations, Delta had me taken care of on this flight with airplane bottles of Bombay Sapphire and Mini Fever Tree Tonic Water. They serve big ice cubes on board too. By no means are they king size XL, but they are impressive nonetheless…for an airplane. Let's call them Dukes for now. These bad boys took their time melting, enough that I could easily make a second round with the same ice. That is what you want on a plane: minimal need to request extra ice and cups, which means minimal accumulation of stuff on your tray.
Now, who doesn't love a specially crafted, economy flight cocktail? Always treat yourself, friends.
The Delta Duke G&T
1 mini Bombay Sapphire
1 mini Fever Tree Tonic Water
1 medium plastic cup filled to the brim with Dukes (medium-large sized cubes)
1 lemon wedge (good luck finding a lime)
1 wooden stir stick (because, it's classy)
Pour that baby Bombay over the ice and lemon, top with tonic, swizzle and sip. Happy flying.
If you use these exact elements your cocktail will go just to the top of the cup without being too full. Your proportion of flavours will also be spot on. If you go for the double, you're my hero.
Bombay Sapphire has a recipe too, but I know mine is better.
x ciao ciao x