1. Tuesday, October 9, 2018
Canadian Opera Company: Free Lunchtime Concert
The Best of Rossini
Artists of the COC Ensemble Studio
VOCAL SERIES
Artists of the COC Ensemble Studio present a show-stopping program of works by Italian composer Gioachino Rossini, from lighthearted and exhilarating arias and duets to more serious works.
Date: OCTOBER 9, 2018 AT 12:00PM
Venue: Four Seasons Centre for the Performing Arts, 145 Queen St. W., Toronto, ON
For Tickets and More Information
2. Wednesday, October 10, 2018
Tafelmusik: VIVALDI CON AMORE
Tafelmusik's love affair with the music of Antonio Vivaldi has deepened with the arrival of Music Director Elisa Citterio. Following her electric performances of Vivaldi's The Four Seasons last season, Citterio leads the orchestra in Vivaldi con amore, a colourful bouquet of the composer's most energetic and amorous concertos, Oct 10 to 14 at Jeanne Lamon Hall, Trinity-St. Paul's Centre, and Oct 16 at George Weston Recital Hall, Toronto Centre for the Arts. Full program details are available at tafelmusk.org.
In Vivaldi con amore, Citterio takes the solo parts in the composer's love-themed concertos "L'amoroso" and "L'amato bene," which will be featured on the March 2019 release of a major new recording of this music—Citterio's first with the Orchestra. Tafelmusik's remarkable musicians—Cristina Zacharias, Patricia Ahern, Geneviève Gilardeau, and Julia Wedman, violins; John Abberger and Marco Cera, oboes; Dominic Teresi, bassoon, and Luca Harris, lute, are featured as soloists in the vibrant concertos that complete the program, which opens with the Sinfonia from Vivaldi's opera Ottone in villa.
"It means a lot to me to bring some of the strongest elements of my Italian background to Toronto, and I offer this program to our audiences in the Annex and North York with all my heart," says Music Director Elisa Citterio. "I'd say that in the collective imagination Vivaldi truly represents 'l'italianità,' or the Italian character. His music describes and evokes landscapes, states of mind, and characters in a very direct way. I might even attempt a comparison: an Italian might gesticulate in order to be understood by those who don't speak the same language; similarly, Vivaldi's music speaks directly to people's hearts."
Audience members are invited to join musician and broadcaster Dr. Hannah French for a free pre-concert chat one hour before each performance. A post-concert Talk Back with selected musicians takes place on Wednesday, October 10.
Dates:
Wed Oct 10 at 7 pm
Thu Oct 11, Fri Oct 12, Sat Oct 13 at 8pm,
Sun Oct 14 at 3:30pm at Jeanne Lamon Hall
Tues Oct 16 at 8pm at George Weston Recital Hall
Venues: Jeanne Lamon Hall, Trinity St.-Paul's Centre, 427 Bloor Street West, Toronto ON
George Weston Recital Hall, Toronto Centre for the Arts. 5040 Yonge Street, Toronto, ON
3. Thursday, Oct 11, 2018 & Friday, Oct 12, 2018
Motion Picture Symphony Orchestra: CASINO ROYALE IN CONCERT
Casino Royale In Concert
Conductor: Evan Mitchell
For the first time ever in Canada, audiences will be able to experience Bond on the big screen accompanied by the power of a full symphony orchestra performing composer David Arnold's thrilling musical score live and in sync to the picture!
Dates: Thursday, Oct 11, 2018 & Friday, Oct 12, 2018
Venue: Sony Centre for the Performing Arts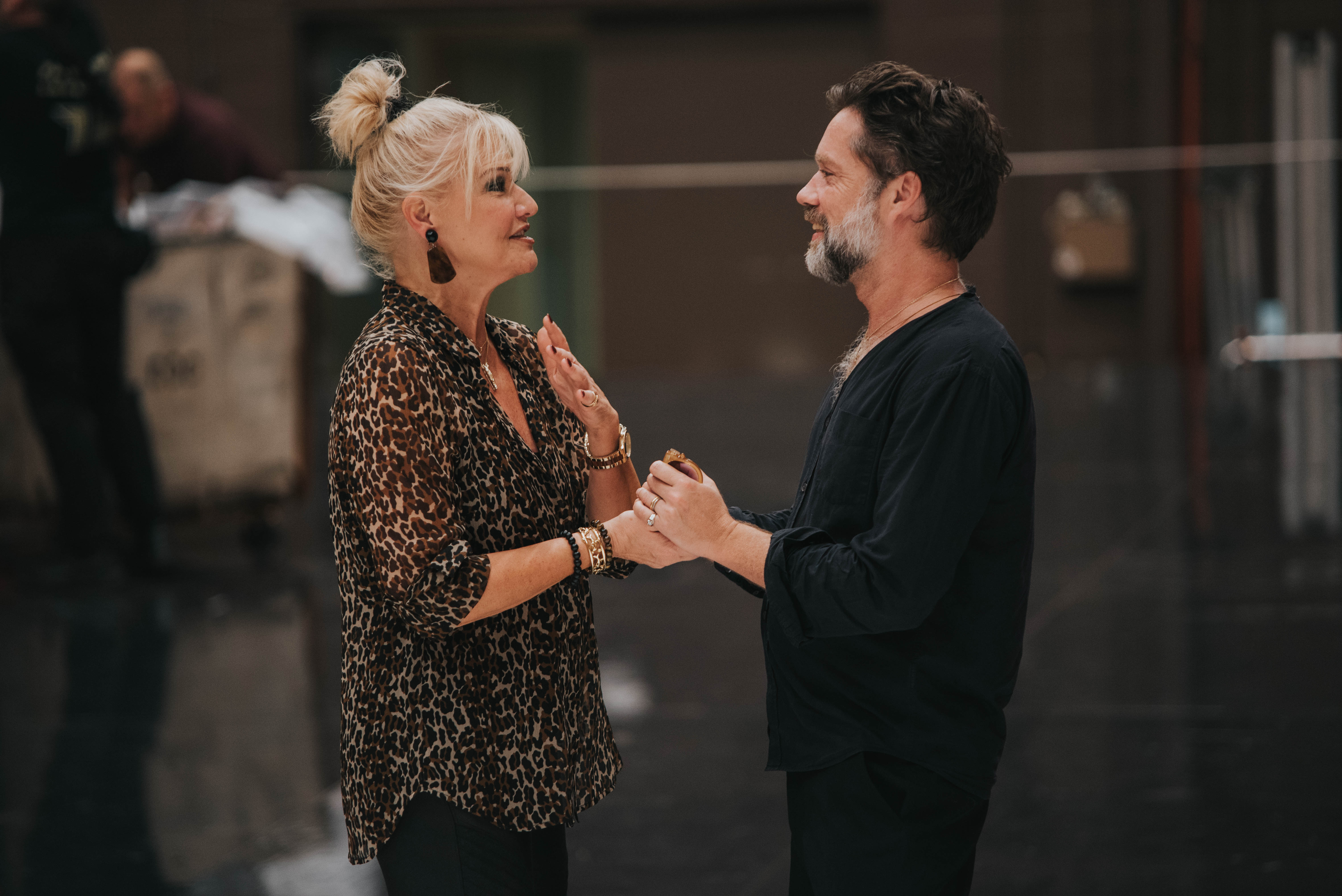 4. October 13, 2018
Canadian Opera Company: HADRIAN
by Rufus Wainwright
libretto by Daniel MacIvor
WORLD PREMIERE
Emperor Hadrian is devastated after his lover Antinous drowns in the Nile River. While matters of state encroach on his grief, and advisors clamour for war against a radical new threat to the Empire, Hadrian slips out of time to re-encounter the vision and reality of Antinous—and learn the truth about what happened on the Nile.
This highly anticipated world premiere from composer Rufus Wainwright and librettist Daniel MacIvor features the company debuts of opera legends Thomas Hampson and Karita Mattila, and is presented by the same creative team behind the COC's 2017 production of Louis Riel.
Single tickets for Hadrian range from $35 – $250 with Grand Ring seats available at $290 and $350. Tickets are available online at coc.ca, by calling 416-363-8231, or in person at the Four Seasons Centre for the Performing Arts Box Office (145 Queen St. W.).
For more information on specially priced tickets available to young people under the age of 15, standing room, Opera Under 30 presented by TD Bank Group, student groups and rush seating, visit coc.ca.
Dates: October 13, 17, 19, 21, 23, 25, 27, 2018
Venue: Four Seasons Centre for the Performing Arts, 145 Queen St. W., Toronto, ON
For Tickets and More Information
5. Saturday, October 13
Toronto Symphony Orchestra presents: DVOŘÁK NEW WORLD SYMPHONY
Pianist George Li, winner of the Silver Medal at the 2015 International Tchaikovsky Competition, communicates all the fire, tenderness, and sardonic humour of Rachmaninoff's breathtaking showpiece for piano and orchestra. For his TSO début, Uzbek conductor Aziz Shokhakimov offers the symphony that Czech composer Dvořák created while living in America. This much-loved work offers not only his heartfelt impressions of the bustling USA of the 1890s, but a touching love letter to his far-off homeland.
Dates: October 13 & 14
Venue: Roy Thomson Hall, 60 Simcoe St, Toronto, ON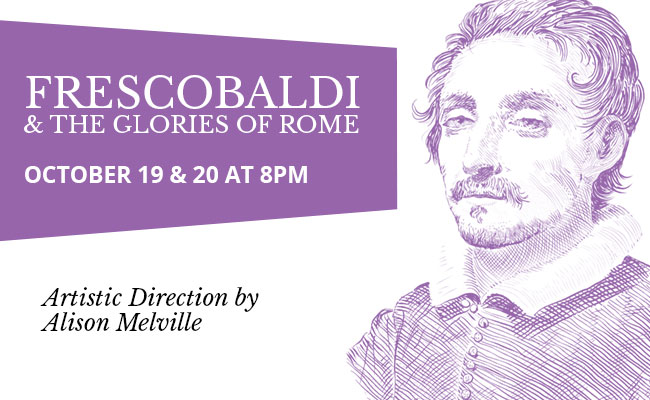 6. Friday, October 19 & Saturday, October 20, 2018
Toronto Consort: FRESCOBALDI & THE GLORIES OF ROME
The Glorious Sights and Sounds of 17th-Century Rome
Behold the glorious sights and sounds of 17th-century Rome! Our season kicks off in the musical world of one of Italy's most celebrated early Baroque luminaries, Girolamo Frescobaldi. Let his music and that of Palestrina, Landi, and Caroso wash over you as images of Rome's glittering treasures delight. This multi-media event features dazzling arias, improvisation on bass lines, and florid ornamentation of canzonas, early sonatas, and sacred works for archlute, voices, chamber organ, recorder, and hurdy-gurdy.
Dates: October 19 & 20, 2018 8 pm
Venue: Trinity-St. Paul's Centre, Jeanne Lamon Hall, 427 Bloor St. W, Toronto, ON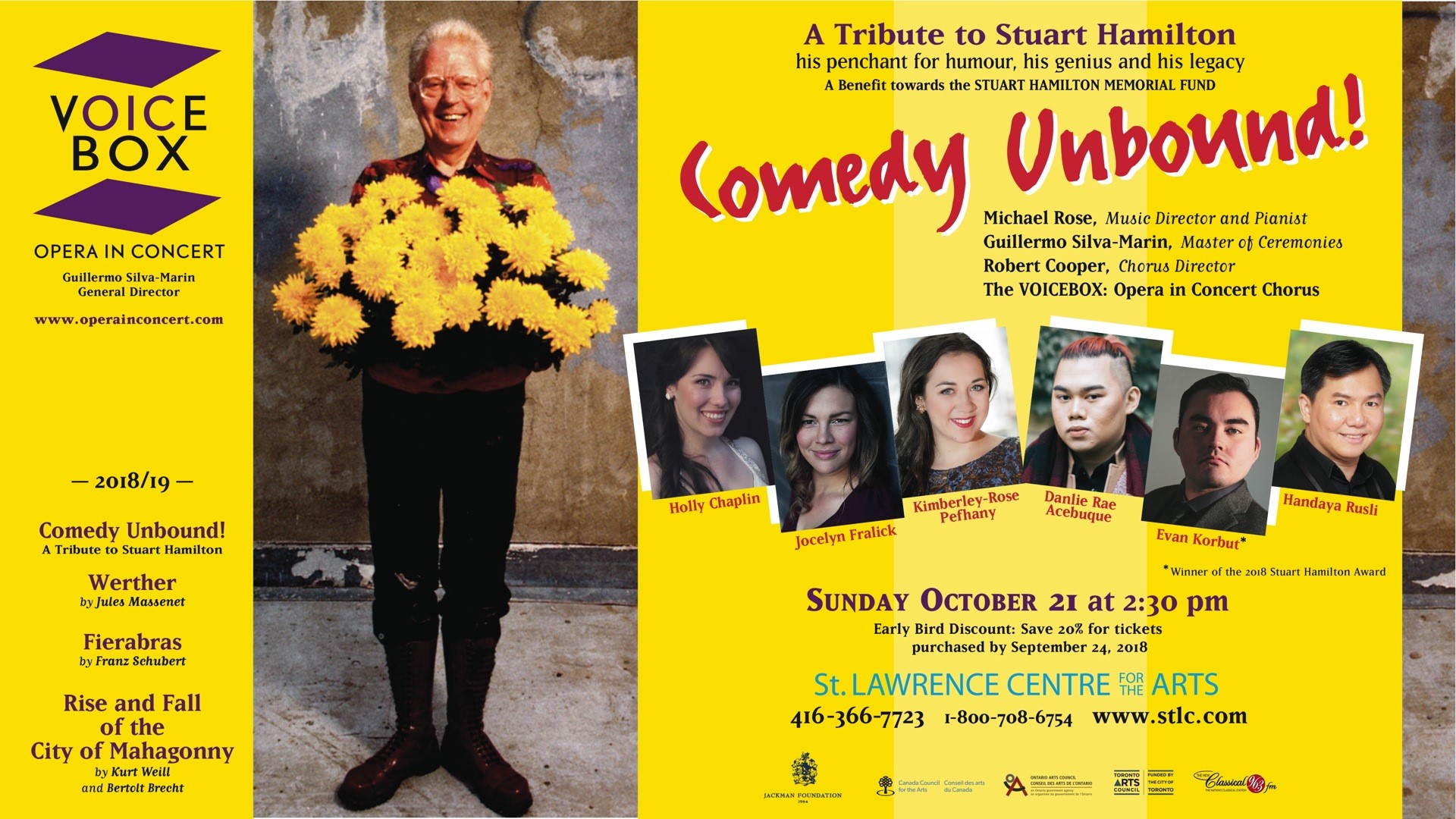 7. Sunday, October 21, 2018
VOICEBOX Opera In Concert: COMEDY UNBOUND!
COMEDY UNBOUND! A Tribute to Stuart Hamilton
Endearingly known as Stuartissimo!, the moniker paid tribute to his grand contribution to the vocal arts in Canada and his penchant for humour. We sing – and laugh! – in memory of Stuart Hamilton, his genius and his legacy.
Featuring:
Michael Rose, Music Director and Pianist
Robert Cooper, Chorus Director
Evan Korbut
Holly Chaplin
Jocelyn Fralick
Guillermo Silva-Marin
Date: Sunday, October 21, 2018— 2:30pm
Venue: St. Lawrence Centre for the Arts, 27 Front Street East, Toronto, ON
8. Saturday, October 27, 2018
Opera Atelier: Actéon & Pygmalion
Atelier's 2018-2019 season brings art to life with two rare and exceptional creations. We open with a French Baroque double bill (Oct. 25, 2018-Nov. 3, 2018 at the Elgin Theatre): Charpentier's Actéon, coupled with Rameau's glittering masterpiece, Pygmalion. We invite you to join us for a season that promises to bring Art to Life and Life to Art.
Actéon & Pygmalion will embark on an international tour to the Harris Theater, Chicago, and the Palace of Versailles, France.Charpentier's Actéon & Rameau's Pygmalion –
These famous Greek myths, taken from Ovid's Metamorphosis, are transformed into riveting operatic masterpieces in the hands of two of the greatest composers in French music history. Colin Ainsworth is featured in both title roles, alongside Mireille Asselin (Diana & Amour), Allyson McHardy (Juno & Céphise), Jesse Blumberg, Christopher Enns, Meghan Lindsay, Cynthia Smithers and Anna Sharpe. Performed in French with English Surtitles.
The performance begins with Charpentier's Actéon, the deeply moving story of the young hunter turned into a stag by Diana, goddess of the hunt. Actéon's magical transformation takes place on stage – a tour de force for the singer in the title role. He is then hunted by his own men and hounds.
Following the intermission, Opera Atelier presents Pygmalion, Rameau's glittering Rococo masterpiece, in which a beautiful statue is transformed into a living, breathing woman by the power of love. Pygmalion opens with Opera Atelier's first Canadian commission for solo baroque violin and contemporary dancing, entitled Inception. This creation has been conceived as a theatrical intervention that leads into and merges with Rameau's famous overture. Performed by composer/violinist Edwin Huizinga and choreographer/Artist of Atelier Ballet, Tyler Gledhill, Inception is literally a pas de deux for instrumentalist and dancer, transforming the performance space as part of the evening's theme of metamorphosis.
Dates:
Saturday Oct. 27, 7:30 pm
Sunday Oct. 28, 3:00 pm
Friday Nov. 2, 7:30 pm
Saturday Nov. 3, 4:30 pm
Venue: The Elgin Theatre, 189 Yonge Street, Toronto