Luchino Visconti (di Mondrone) is an Italian film, opera and theatre director and screenwriter. He was born on November 2, 1906 in Milan and is a direct descendant of the Visconti of Milan. The Visconti form part of the Italian noble dynasty that ruled over Milan during the middle ages and eventually brought forth the House of Sforza in the 15th century.
Visconti is best known for directing The Leopard (1963), Obsession (1943), Death in Venice (1971) and Senso (1954). Considered one of the fathers of Italian Neorealist cinema, Visconti left his mark on film by shaking up how direction was approached and paving the way for directors like Vittorio De Sica (The Bicycle Thief, 1948) and Roberto Rossellini (Rome, Open City, 1945). Though born into a noble family, Visconti began stripping away the ties to his upbringing during World War II. He joined the communist party and took a critical look at elitism by focusing on gritty, human emotions, idealism, and the Italian lower class struggle through his art. Visconti made 14 films before his death in 1976.
Visconti has been romantically tied to actor Helmut Berger, and legendary opera director Franco Zeffirelli. Visconti also frequently directed operatic productions at La Scala di Milano and the Royal Opera House, working with the likes of soprano Maria Callas, tenor Giuseppe Di Stefano, and conductor Leonard Bernstein.
In anticipation of the 2018 Toronto International Film Festival, TIFF has put together a retrospective of Visconti's cinematic work, creating a unique opportunity to watch each of his 14 films on the big screen. Some evenings will feature an introduction by the likes of director Atom Egoyan, and Professor Alberto Zambenedetti. Maestro! The Films of Luchino Visconti runs from July 26 to August 19, 2018, at TIFF Bell Lightbox, 350 King Street West, Toronto.
For a synopsis of the films, click here
For more information about the series, click here
1. Ossessione (1943)
Visconti's first film is an adaptation of James M Cain's novel The Postman Always Rings Twice with a switch of location to Italy. Ossessione stars Massimo Girotti as Gino, a drifter who starts an affair with Giovanna, played by Clara Calamai. The two fall in love and kill her boorish husband who is getting in the way of their happiness. With the building pressure from police and his rising guilt, Gino becomes increasingly nervous and paranoid, trying to find a way out of the situation.
The film's controversial themes were shocking to the Fascist authorities and they destroyed the film, but luckily Visconti kept a print. It is a highly influential film, starting the neo-realist movement in Italy with its grimy depiction of rural life and characters.
The passion in this film is gritty and raw unlike the romanticized depictions in his later films. The sets of rundown old houses are poorly lit to show the depressing state of the populace. Ossessione may not be Visconti's most polished or epic film, but it is a great debut, capturing a realistic portrait of Italian life.
2. La Terra Trema (1948)
La Terra Trema is Visconti's most dedicated addition to the Neo-realist genre, employing non-professional actors and the use of real locations as sets. Halfway between a documentary and a narrative, the film follows a family of Sicilian fishermen, the Valastros, who, in an attempt to make more money, bypass the wholesalers and become owners themselves.
This decision comes with more responsibility than the Valastros expect, especially when their boat is wrecked in a storm. The family's decline into poverty and depression is tracked unflinchingly as their relationships fall apart around them.
In addition to hiring real fishermen and using their villages to shoot in, the film also details different aspects of the fishing industry and marketplace, creating the feeling of a documentary. The relaxed pacing and long length, typical of Visconti, make the fall of the Valastros even more disheartening.
Originally, La Terra Trema was to be the first in a trilogy of films about lower class workers, with the final film to end triumphantly, but Visconti later decided that the tragic end of the film was a more powerful social commentary. All in all, Visconti's most experimental work succeeds as both an emotional narrative and an in depth exploration of the working class.
3. Bellissima (1952)
Arguably Visconti's last true neo-realist film, Bellissima is a biting satire of the Italian film industry. The movie stars Anna Magnani, one of Italy's greatest actresses, as Madalena, a controlling mother who pushes her daughter into auditions and stage competitions.
By trying to achieve success through her daughter, she escapes the harsh reality of hunger and poverty in Italy, living in the dream of the glamorous film industry. Madalena becomes increasingly demanding, experiencing life imagination and outlandish hope, but as her aspirations turn out harder to achieve than she thought, jealousy and desperation begin to affect her.
Bellissima is, as well as a critique on the entertainment business, a powerful look at social struggles. Madalena is representative of the lower class, driven by popular culture as well as pushed down by it. She spends all of her excess money on dresses and lessons for her daughter, despite her daughter being too young and overwhelmed to focus on her career.
Magnani's performance is exceptional in her capturing of the obnoxious and egotistical pageant mother, stealing the attention away from others, as her character does with her daughter. One of the Visconti's most accessible and quickest moving films, Bellissima is a sad and scary portrait of a ruthless industry and the desperation of a misguided mother.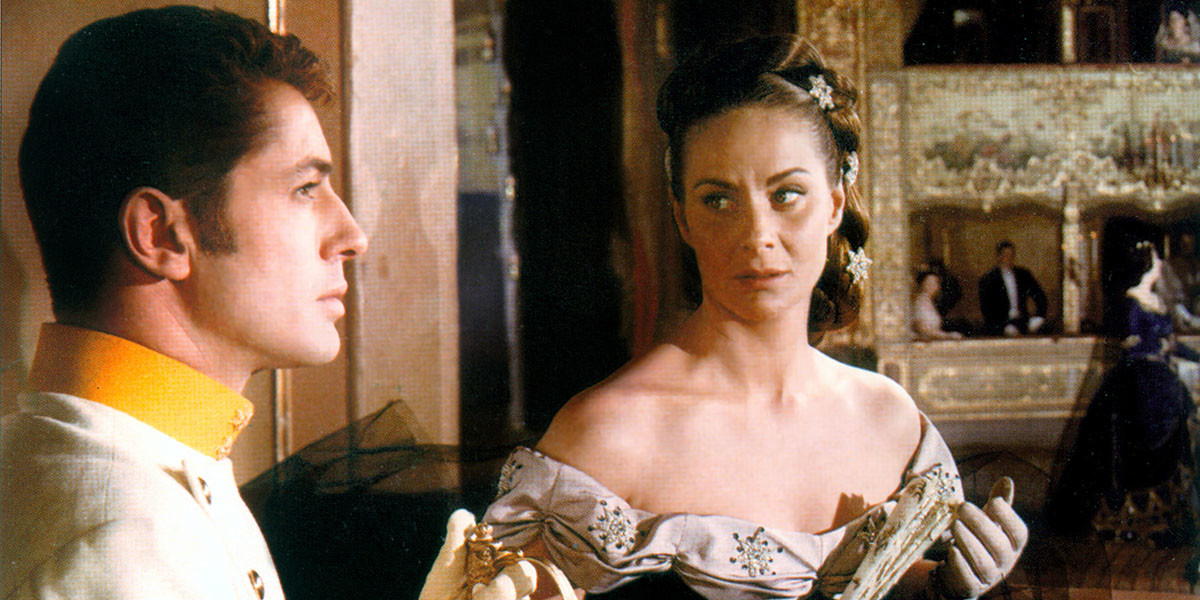 4. Senso (1954)
Having associated himself as a realist and a director of the people in his previous films, Senso shows the beginning of Visconti's development into a more melodramatic and passionate filmmaker. It stars Alida Valli who plays the unhappy rich aristocrat Livia, who supports the lower class revolutions going on in Italy.
When she meets the handsome Austrian officer Franz, played by American star Farley Granger, she falls in love, beginning a torrid affair, and eventually leaving her husband. Unfortunately for Livia, Franz does not love her and constantly taking her for her money and using her to betray her old allies.
Unlike Visconti's later films like The Leopard, Senso is unrelentingly critical of the nobility in Italy, having almost every main character behave ignorantly or reprehensibly. Livia and Franz especially are extremely selfish, representing the director's feelings towards the old leaders of the country.
Despite still projecting his early radical political views, Visconti shows his first attempts at extravagant production design and his enhanced focus on romance and deep human emotions. Scored almost exclusively by a soaring theme from Bruckner's seventh symphony and shot in dazzling technicolor, this wrenching drama is an important piece in Visconti's transitional phase.
5. Le Notti Bianche (1957)
Le Notti Bianche, or White Nights in English, is an adaptation of the short story by Fyodor Dostoyevsky. Marcello Mastroianni stars as Mario, a newcomer to town who meets Natalia, played by Maria Schell. Natalia is also lonely, and the two begin to spend time together, but while Mario develops strong feelings for her, Natalia's heart belongs to her old love who she still waits for. Both hold out for their desires, ignoring other alternatives, despite knowing that they probably are not going to get what they want.
The film is driven by tormented and obsessed performances, with Mastroianni in especially high form. They perfectly convey the hopelessness of their relationship, with each desperately wanting different things. Visconti's more minimal production in Le Notti Bianche highlights the passionate but depressing commentary on love.
It is a slight return to the realist form for Visconti from the previous Senso, being filmed in black and white and featuring a simple plot. Still, despite not having lavish design and breadth, Le Notti Bianche is one of Visconti's most emotionally powerful and affecting films.
6. Rocco and His Brothers (1960)
Considered one of, if not the greatest film of Visconti's career, Rocco and His Brothers perfectly balances his trademarks of realism and melodrama. The film follows Rocco, played by Alain Delon, and his four brothers as they interact with each other and their surroundings in urban Italy, after moving from the countryside.
All of the brothers have different experiences and transformations from the change in environment. When his brothers start to feud and travel down the wrong paths, Rocco acts as the force keeping his family together, sacrificing love, money and opportunities so that his brothers can succeed.
Tragic, gritty and powerful, Visconti's film addresses many important themes of varying topic, including family dynamics, city versus rural life and the importance of self sacrifice. Filmed in black and white with the grungy feel of his earlier work but featuring operatic, passionate relationships like his later films, his vision is undisturbed in this challenging and commanding odyssey of human emotion.
A quintessential entry in not only Visconti's work but a landmark in all of film, Rocco and His Brothers is a must see for every cinephile.
7. The Leopard (1963)
The Leopard is one of Visconti's most acclaimed films of his career. Hollywood icon Burt Lancaster stars as the aging Prince, Don Fabrizio Corbera of Salina in this historical drama set during the period of revolution and unrest in 1860s Italy.
Corbera, also known as The Leopard, represents the last of the old age of aristocracy in Sicily, who is slowly watching as his way of life crumbles away. His nephew Tancredi, played by Alain Delon, is conversely symbolic of the revolution and the new generation taking over. Also starring Claudia Cardinale, the film is a slow meditation on the fading nobility and the tragic character of The Leopard.
Gorgeously filmed and beautifully designed, the shots often tell more than the characters. Lancaster gives a deeply intimate performance, resigned and depressed to his fate. The film, uncut, lasts over three hours but its slow, reflective atmosphere is filled with emotion and tensions between the two generations.
The Leopard is one of Visconti's most personal films, addressing his family's roots as nobility and the clash with his Communist beliefs. As much a political message as it is a beautiful work of art, it is a must see for all fans of Italian cinema.