In celebration of the House of Dior's 70th anniversary, the Royal Ontario Museum (ROM) is pleased to present Christian Dior, an original ROM exhibition focusing on the early years of Christian Dior haute couture, 1947 to 1957. This stunning retrospective, on display from November 25, 2017 to March 18, 2018, explores the brilliance behind Christian Dior's dramatic creations that revived the Paris fashion industry following the Second World War.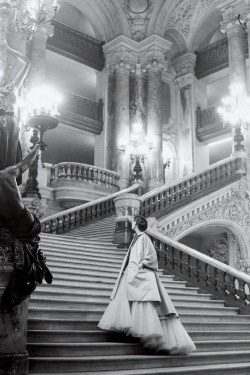 Presented by Holt Renfrew, the exhibition draws from the ROM's permanent collection of Textiles and Fashions and is augmented with loans of accessories. Christian Dior features more than 100 objects, including 38 designs from daytime and evening wear to grand occasions. Visitors will discover how and why the designer's iconic lines, luxury textiles, and romantic embroideries laid the foundation for the House of Dior's global success.
Josh Basseches, the ROM's Director and CEO, says: "Few people have had as great an influence on shaping the modern aesthetic as Christian Dior. His standing among contemporary fashion designers remains central to this day. As the House of Dior celebrates its milestone anniversary, there is no better time for the ROM to share its extraordinary collection of Dior couture with audiences. This original exhibition, enriched with programming offerings, is a great example of the Museum's ongoing commitment to addressing topics that engage our visitors and feel relevant to their lives."
On view at the ROM's Patricia Harris Gallery of Textiles & Costume, this treasured collection is arranged thematically by Daytime (coats, suits, and day dresses), Late Afternoon to Evening (cocktails and dinner dresses), and Evening (ball and formal gowns). The pieces are contextualized with Dior accessories and perfumes, and augmented by contemporary film, sketches, fashion photographs, and advertisements.
Many of the pieces were worn in Canada and donated by socialites of the period from Montreal and Toronto. In addition to the ROM's own collection, the exhibition is enhanced by loans from Christian Dior Héritage; Paris and Maison Hurel, Paris; Musée d'Art et d'Industrie de Saint-Etienne; Bata Shoe Museum, Toronto, and several other lenders.
Dr. Alexandra Palmer, the exhibition's curator and ROM's Nora E. Vaughan Senior Curator says: "Christian Dior's revolutionary fashions captured the excitement of post war modernity and have stood the test of time. This was made possible with the work of numerous industries and artisans who produced extraordinary ribbons, beads, sequins, and embroideries that Dior incorporated into his dresses with the assistance of his imaginative pattern makers, tailors, and seamstresses. These contributions resulted in striking, elegant, and poised fashions for all women, and for all times of day and night. This sophisticated and integrated vision continues to resonate and guide the creativity of the House of Dior."
Dr. Palmer is also the author of the upcoming companion book Christian Dior: History & Modernity, 1947–1957 (ROM Press, 2018) and the award-winning Dior: A New Look, A New Enterprise (V&A, 2009). Published to coincide with the exhibition, the stunning publication Christian Dior: History and Modernity, 1947-1957 ($49.99), focuses on the ROM's collection of Dior couture photographed by renowned Dior photographer Laziz Hamani, and is augmented by sketches and material from Dior Héritage. It will be available at Holt Renfrew and major book retailers.
An extensive lineup of related programming will be offered throughout the run of the exhibition, including ROM Speaks lectures featuring the Director of Dior Héritage Soizic Pfaff and fashion historian Florence Müller, co-curator of Christian Dior, couturier du rêve at Les Arts Décoratifs, Paris to mark Dior's 70th anniversary. More information and the complete list of programming and events can be found on the website: www.rom.on.ca/en/dior.
"Holt Renfrew is very proud to be the presenting sponsor of Christian Dior at the ROM," says Mario Grauso, President, Holt Renfrew. "We were the first store in Canada to bring Dior to our customers and we continue to enjoy a valued relationship with this iconic brand." Grauso continues, "The ROM is an incredible museum and we are looking forward to supporting what will be a very exciting exhibition for Toronto."
"The Royal Ontario Museum is one of our flagship cultural institutions and a civic hub of engagement and innovative learning," says Eleanor McMahon, Minister of Tourism, Culture and Sport.  "I know everyone, whether they're fans of couture, art, or history, will love this exciting and engaging showcase of one of the most creative and influential designers of the past century."
Christian Dior is on display from Saturday, November 25, 2017 to Sunday, March 18, 2018. The exhibition is separately ticketed. Pricing for Adults is $8 in addition to General Admission, with Free Admission for ROM Members.
CHRISTIAN DIOR BIOGRAPHY
Born in 1905 in Granville, France, Christian Dior began his career in Paris as a freelance designer and sketch artist, selling fashion illustrations to magazines in 1935. His first job in an haute couture house was in 1938 when Robert Piguet hired him as modéliste.  In 1941, Christian Dior joined the house of Lucien Lelong as assistant designer and in 1946 he set up his own couture house. On February 12, 1947, Christian Dior presented his first collection, that became known as the "New Look." The soft shoulders, cinched waist, accentuated hips and long, full skirts of Christian Dior's masterful cuts swept away the wartime masculine silhouette and launched a fashion revolution that influenced women's fashions throughout the 1950s and continues to this day.
Presenting Sponsor

Exhibit Patron:  ROM Friends of Textiles and Costume & Burnham Brett Endowment Fund